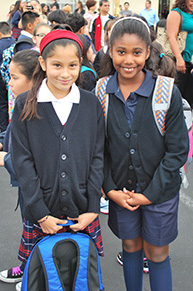 St. Joachim School was founded in 1958 by the Benedictine Sisters of  Mt. Angel, Oregon. The school was built by parishioners who generously volunteered their time to ensure that parish children would be able to receive a Catholic education. Students are still reaping the benefits of that contribution today. The school grew and expanded over the years with the additions of a gym in 1975, a kindergarten program in 1989, a new science lab and kindergarten classroom in 1999, and a preschool in 2004.
In 2006, St. Joachim School established, TAP, our tuition assistance program to ensure that finances will not be an impediment to families that desire a Catholic education for their child.
In 2008, St. Joachim School added a 24/7 One-to-One Laptop program for students in 6th, 7th and 8th grades. In 2013 the school became a One-to-One iPad/Laptop school for all students in kindergarten through 8th grade. Access to online resources and innovative curriculum resources that are utilized has enabled the school to become a leader in educational technology and has lead to tremendous growth and achievement for our students!
Be A Part of Our Story Today